"

Davina's voice is raw and soulful, carrying an unmistakable emotional weight…with power and intensity and incredible versatility." - Andrew C. Caccese, The Band Camp Diaries
"

  Possessing a set of pipes capable of knocking down even the sturdiest wall, Davina Robinson has fused rock, soul, and blues into a captivating sound of her own that's as potent as it is powerful." - Bill Dahl
BIO
 Japan is a long way from the birthplace of the blues, a distinctly American art form. Yet that's precisely where Philadelphia-born Davina Robinson found her contemporary blues muse. Now she's bringing her powerhouse vocal delivery to the entire world—direct from the Land of the Rising Sun.
            As it turns out, Japan boasts its own thriving blues scene, with plenty of skilled musicians to provide expert musical support for Davina's deeply moving vocals. Of course, there have been a few small challenges that she's triumphantly overcome along the way. "Living in Japan, where English is not the first language, I need to be able to tell the story and express it in ways that the Japanese audience can feel and understand," says Davina. "The blues transcends language."
  From her ultra-confident onstage demeanor, you'd never guess that Davina wasn't always so extroverted. "I was too shy to sing in front of people until I moved to Japan and had to go to karaoke bars with colleagues. That gave me the confidence to go to open mics and jam sessions, and that's how I met and made friends with other musicians and began performing with them." 
            Influenced by her mother's record collection, Davina was attracted to the idiom that she would later embrace at a young age. Even though I'd known of blues and soul artists, I didn't realize that that was called 'blues.' When I finally started performing years later, there was never a question of what kind of music I was going to do. I was just drawn to it; it was a very natural gravitation."
Citing a wide array of vocal influences ranging from Aretha Franklin, Etta James, and Tina Turner to Donna Summer, Chaka Khan, and Bonnie Raitt, Davina also names Robert Plant, Paul Rodgers, and Gregg Allman in her pantheon of musical heroes. That wide stylistic scope informs her choice of repertoire. 
Davina's most recent EP, Bluesaholic (2021), lives up to its title; its three selections reflecting considerably more of the singer's contemporary blues roots than previous releases. "Freak In Me" spotlights Davina's scorching pipes just as convincingly as her prior recordings, but there's a bit more room to breathe, keyboards adding coloration to the aural backdrop. Davina slows things down enticingly for a slinky "Like A Woman," every bit the blues diva as she emotes over exquisite instrumental support. She struts her stuff on "Big Butt Woman," pointing out her seductive physical attributes over a hard-driving shuffle groove. 
No less devastating when wrapping her vocal cords around seminal blues standards in a traditional setting, Davina takes Big Mama Thornton's "Hound Dog," Willie Dixon's "I Just Want To Make Love To You,"  and Peggy Lee's sleek interpretation of "Fever" back in the alley with as assurance borne of two dozen years of singing professionally. The world-weary sadness defining Etta James' "I'd Rather Go Blind" resonates anew in Davina's capable hands, and she breathes new life into Etta's "At Last," passionately reinvigorating the smoldering anthem.
It's readily apparent that Davina Robinson is a contemporary blues chanteuse with a future certain to extend far outside her adopted Japanese homebase in years to come.

-Bill Dahl
"

Robinson brings a wallop of vocal power to the table, shaped and shifted with bluesy lilts and style. She's a powerhouse, without question. Venues all across Japan have a gem in their midst. " - Wiley Koepp, Coyote Music
BLUESAHOLIC
Davina Robinson
0:00/3:49

0:00/4:24

0:00/4:08
The Blazing Heart
Davina Robinson
0:00/4:04

0:00/3:59

0:00/5:08

0:00/4:06
Black Rock Warrior Queen
Davina Robinson
0:00/3:48

0:00/4:14

0:00/4:52

0:00/4:19

0:00/3:24

0:00/4:05

0:00/3:57

0:00/3:52

0:00/4:02

0:00/4:33
MERCHANDISE
CDs
You can purchase physical CDs through many online retailers, such as Amazon Music (US) or Amazon Music (JP).

You can also purchase physical CDs at Davina's shows. In addition, members of Bluesaholic also sell the Bluesaholic CD at their respective shows. You may also contact Davina and arrange to purchase through Paypal or Paypay.

CD PRICES:
Bluesaholic ¥1,000
Black Rock Warrior Queen ¥2,500
The Blazing Heart ¥1,000
You can find digital music on all the major sites:  APPLE MUSIC, SPOTIFY, PANDORA etc.

T-SHIRTS ¥2,500

You can also buy "Bluesaholic" tees at most Bluesaholic shows, or you may contact Davina and arrange to purchase through Paypal or Paypay. Sizes are limited.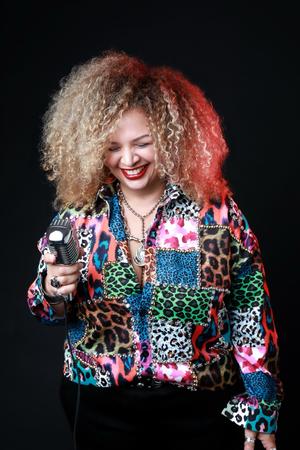 You can purchase merch by contacting Davina and then arranging payment through the links below. 

Tips/donations are greatly appreciated!

ID for both accounts is davinablues.
グッズのご購入は、先に こちらに連絡し、以下のリンクから支払いを手配することできます。
よろしければ、投げ銭にご協力
お願いします!